Sofie Livebrant and folksinger Sofia Karlsson have a long creative, musical relationship with many concerts, songs and records made during the past years.
Sofie have composed many songs to Dan Andersson's (1888-1920) poems, one of Swedens most loved poets. Sofia Karlsson is singing these interpretations on the records; Svarta Ballader (Black Ballads), Visor från vinden (Songs From The Attic), Levande (Live), Det Allra Bästa (The Very Best of), were Sofie often is represented as musician and singer. On Levande (Swedish Grammy Award Winner 2012) they perform two duets; 'Olle och Makterna' and 'From Here To Here'.
You can listen to one live duet From Here To Here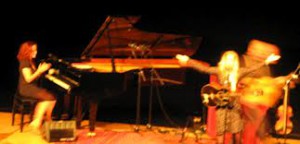 Dan Andersson/Sofia Karlsson
Sofie och Sofia har haft ett nära, kreativt samarbete under många år som har resulterat  många konserter, skivor och sånger. Det var Sofia som lade Dan Anderssons hela samlade verk i Sofies famn och bad henne skriva sånger.
Sofies tonsättningar av Dan Andersons dikter finner du främst på Sofia Karlssons skivor, Du liv, Milrök, Olles förbund med makterna, Mot ljuset, Vaggvisa, Moesta et Errabunda, det finns även en notbok där några av sångerna är noterade.
Några sånger finns även i notboken:
Dan Anderson – Dikter och Tonsättningar