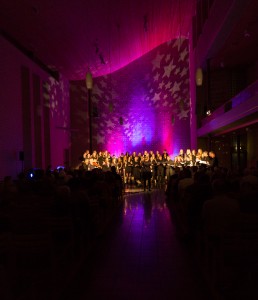 …is 14 newmade songs with lyrics from of old English folk ballads and carols. (Bronson's; "The Traditional Tunes Of The Child Ballads" and other books) A Christmas Oratorio performed by professional musicians, children choir and SATB choir together, in English/American/Irish/Swedish folk music style. It tells about the birth of Jesus Christ in a folky way.
Here you can watch a performance of the songs  Joseph and the Angel and Olive Tree and at Swedish television.
Somebody sees Mary in a dream surrounded by light, the arch angel Gabriel comes to Galilee, the cherry tree who bows down to a tired pregnant Mary so she could pick some cherries, the birth of Jesus, a roasted cock crows in latin and other folktales with miracles: the corn who ripened in one day during the flight to Egypt. Mary's Question ends with a three year old Jesus sitting on Marys lap and she asks him how the world shall be. Jesus answers: "O I shall be dead mother, as the stones in the wall. O the stones in the streets mother shall sorrow for me all.— On Easter day my mother my rising will be. O the sun and the moon mother they shall uprise with me".
If you're interested in notations for choir arrangements, please send an email to:
info@sofielivebrant.com
Listen here to some of the songs performed by choir:
The Cherry Tree Carol/Joseph And The Angel
Mary's Question
Mary's Question är en samling nytonsatta engelska ballader. Tillsammans bildar de ett oratorium, som berättar om Jesu födelse, berättat på ett folkligt vis med adderade mirakler – tuppar som gal på latin och träd som böjer sig ner. Musikaliskt spänner sångerna över svensk-, nordamerikansk- och irländsk folkmusikgenre.
Noter finns för SATB, SSA och enstämmigt med ackordsanalys. Kan köpas som enskilda PDF-er 15:-/styck (180:- för hela MQ) för nedladdning eller beställs som bok(görs på beställning endast). ca 230:- (varierande pris).
Vid intresse av körnoter maila till info@sofielivebrant.com
Sen premiären 2001 så har Mary's Question framförts regelbundet varje år på olika platser i Sverige/Norge; Adolf-Fredriks kyrkas ungdoms- och diskantkör, Bjorgvin Blanda kor, Fjells Barnekor, Enskede Kammarkör, Jacobs Kammarkör, Leksands barn och ungdomskörer, Upptakten i Järvsö,  Järvsö församling, Högalids församling, Uppenbarelsekyrkan, Bollnäs m fl. Sofia Karlsson, Malin Foxdal, Sofia Sandén, Mikael Samuelsson, Peter Oskarson, Grynet Mollvig mfl har medverkat i den.
Målet med Mary's Question,  förutom att skapa fin musik, är att skapa en plattform mellan unga, barn och vuxna, där alla behövs för helheten. Jag ser gärna att MQ framförs av både barn och vuxenkörer som ett samarbetsprojekt, där man delar upp sångerna mellan sig. En del sånger är mer lämpade för vuxna, ungdomar barn etc.